This article is from a post originally published Jan 19, 2018 but is still relevant for #Victors2023
Whether you've already started perusing Amazon for that matching maize-and-blue shower caddy, toothbrush, and pair of flip flops, or you're one of those people who is (somehow) still on the fence about attending the University of Michigan this fall, attending one of the many Campus Day events this winter or spring is a must-do for admitted #Victors2023. 
Campus Day offers students the unique opportunity to tour campus, learn more about what it means to be a Wolverine, and have their questions answered by students, faculty, and staff before making a final college choice. And it's fun! 
But don't take my word for it.
Instead, hear about what makes Campus Day great from those who enjoyed it so much that they returned to help run the events for incoming students.

Campus Day Coordinators Ethan Hopper, Sydney Whack, and Adrienne Ziegelbauer
 
The three Campus Day Coordinators -- Ethan Hopper, a public policy senior from Canton, Mich.; Sydney Whack, a biopsychology, cognition, and neuroscience senior from Southfield, Mich.; and Adrienne Ziegelbauer, an economics senior from Vienna, Va. -- lead a team of nearly 50 undergraduate Campus Day Leaders. 
We asked Ethan, Sydney, and Adrienne about their own Campus Day experiences and tips they have for those preparing to attend. Check out their advice, and be sure to say hi when you visit.
And if you haven't signed up yet, what are you waiting for?!
What do you remember about your own Campus Day experience? 
ETHAN: When I came to Campus Day, I honestly didn't think I was going to come to Michigan. We went on the tour and got to see South Quad, which is where I ended up living my freshman year. My tour guide even became my "big" once I got hired as a Campus Day Leader.
My Campus Day was a great experience and it allowed me to see what it would be like to be a Michigan student right down to the details of housing and dining. Growing up so close to Ann Arbor, I was familiar with the city, but after Campus Day I had a better sense of what life at U-M would be like.
SYDNEY: Campus Day was definitely the reason why I ultimately decided to come to the University of Michigan.
My Campus Day Leader was absolutely amazing and gave me a real idea of what it's like to be a student here and that was super important to me. Being on the outside looking in and trying to see what it would be like to actually go here is really hard without seeing it from the perspective of a current student.
So he allowed me to see myself hanging out in the basement of the Union or eating in the dining hall or walking to class, as well as see why I would enjoy doing those things here at Michigan rather than at another university.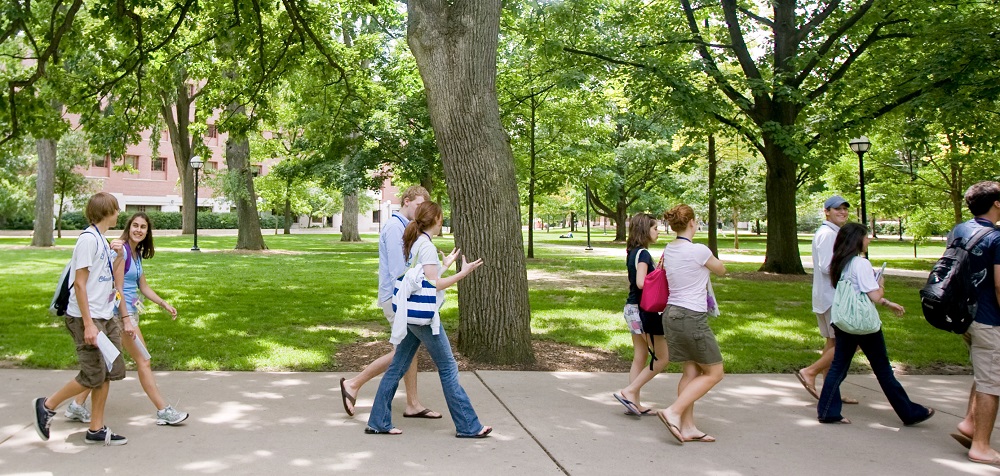 ADRIENNE: I remember my Campus Day visit like it was yesterday!
I loved the energy of the program and the entire day felt like a big celebration as the university welcomed the newly admitted students. I also remember how impressed I was with the university's state-of-the-art facilities.
But most importantly, what stood out to me the most was the ambition and excitement among the student body.
I remember walking through campus and seeing students pitching new business ideas, interviewing with impressive companies on campus, and raising money for local charities and organizations, and I thought to myself how lucky I was to have been admitted into such an impressive and driven community of students.
♦ ♦ ♦ ♦ ♦
What do you like most about working at Campus Day?
SYDNEY: My favorite part about Campus Day is interacting with the families and seeing how excited they are to be here.
I never knew how much of a difference I made until people came up to me the following school year telling me that I was the reason they decided to come to Michigan. That is honestly why I love being a part of admissions.
To see that simply talking about my experience here at U-M can change how someone views this university to the point where they actually want to be a student here is mind blowing.
ADRIENNE: The best part about Campus Day by far is the impact you have on students who are making a huge decision about the next four years of their lives and beyond.
I recall a day during my sophomore year when I was sitting on the second floor of the Undergraduate Library, and a freshman came up to me and told me I was her Campus Day Leader and the reason she chose to come to Michigan.
That was truly the best compliment I could ever hope to receive as a Campus Day Leader.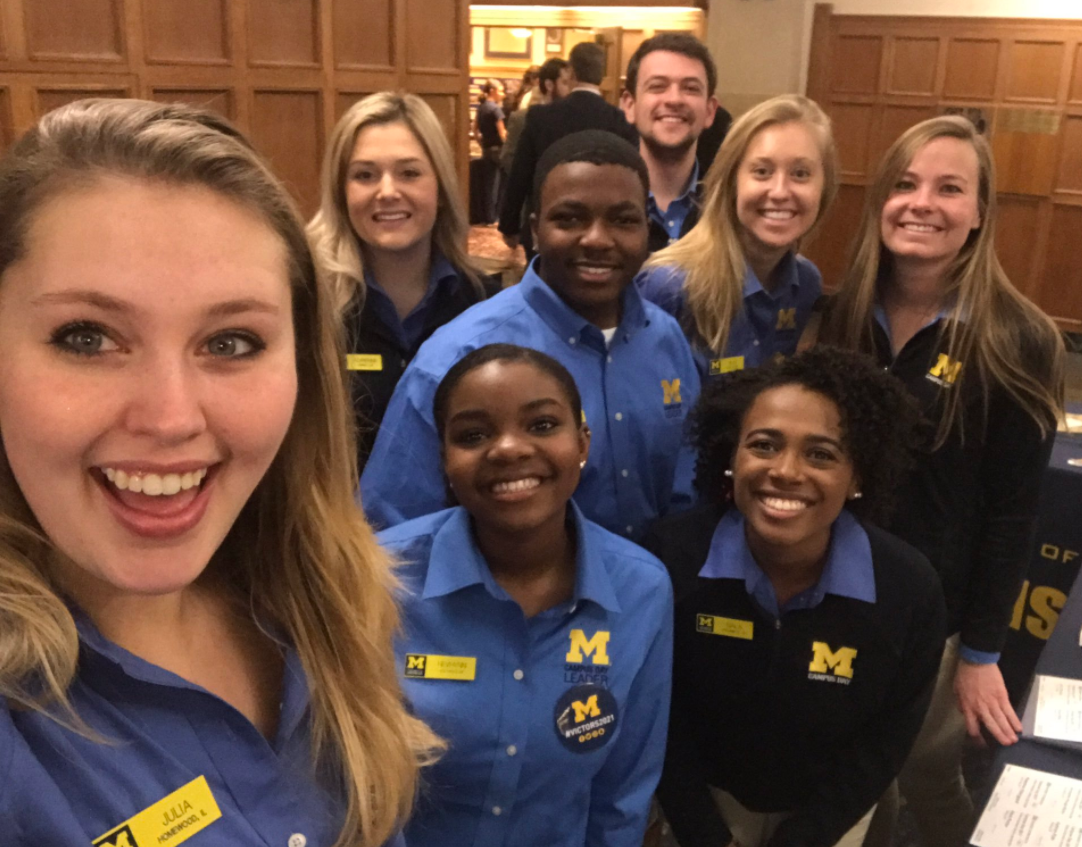 ETHAN: Campus Day is an incredibly fun job to have. The Leaders are an amazing community that come from all corners of campus and the world.
Everyone is great to work with and each Leader has their own unique experiences to draw on during panels and tours.
I'm continually thankful to be a part of the program and I'd recommend that anyone who loves U-M and who loves people consider applying in the fall.
♦ ♦ ♦ ♦ ♦
What advice do you have for students for want to make the most of their Campus Day experience?
ADRIENNE: Having been admitted students ourselves just a few years ago, we, as Campus Day Leaders, know that you have several competitive options in the college decision process. So while we can boast about all of the wonderful academic and career resources that Michigan has, what will really make your time here memorable is the people with whom you surround yourself.
So look around while you're on campus, look into different student organizations you might be interested in, sit in on an open lecture, people-watch by the Block M on the Diag during class changes.
While Michigan as an academic institution has a very prestigious reputation, you have to figure out if our campus community is what you want for the next four years.
And it may be overwhelming to make a decision on the next four years based on a one-day visit, but that makes it all the more important to utilize all of the resources the Campus Day program provides, especially your leader!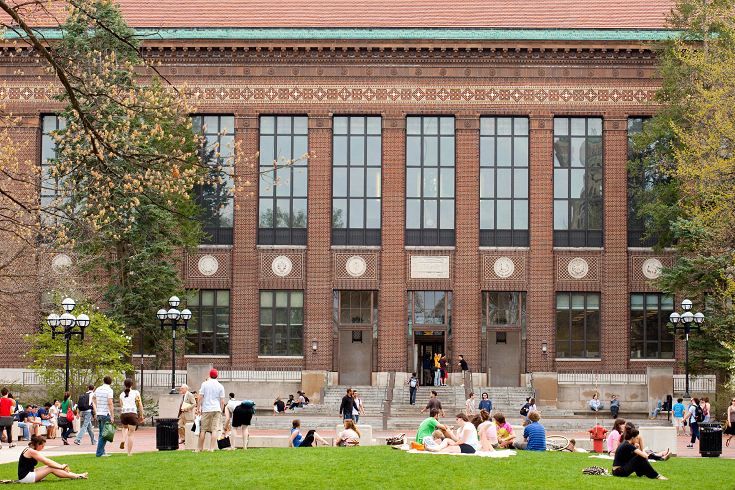 ETHAN: At Campus Day, be sure to embrace the opportunity to learn as much as possible from current Michigan students. We are paid, but the old joke is that we aren't paid enough to lie to you about what it's like to be a student here.
We love speaking honestly about our school because, truth be told, Michigan is a place where it's really easy to have a lot of incredible experiences.
At Campus Day, you're definitely not above walking around the morning Michigan Learning Community (MLC) fair and learning about the different communities we have on campus, even if, like me, you (very wrongly) thought you were.
Ask questions. Your parents might ask a lot of questions, too, but ultimately your college decision should be about what the best fit is for you.
The only way to figure that out is to learn about schools, visit, ask questions to current students, and get a sense of the campus. Can you picture yourself as a Wolverine next fall? Campus Day is here to help you draw that picture.
SYDNEY: I would tell them to go outside of their comfort zone and talk to the other families around them.
A lot of times students think they are the only one with a concern or issue and in reality they aren't. There are tons of people that are struggling with the same things, so it would be nice to have a familiar face to go to once you get on campus to work through those things.
Also don't be afraid to ask your Campus Day Leader questions, because that's why they are there.
They've been in your shoes at one point, so they are a very valuable resource that you should take full advantage of.

♦ ♦ ♦ ♦ ♦
With dates filling up, be sure to register for your Campus Day soon.