As summer break comes to an end, I have been dreaming of football games, the first days of classes, and, of course, Pizza House cheesy bread.
Just thinking about these classic University of Michigan experiences makes me all the more nostalgic for those very first days I spent here.  
If you are an incoming freshman and have no idea what you will be nostalgic for two years down the road, yearning for summer break to end so you can be back in good old Ann Arbor or "AA" for short, here is an hour-by-hour glimpse into my life as a freshman: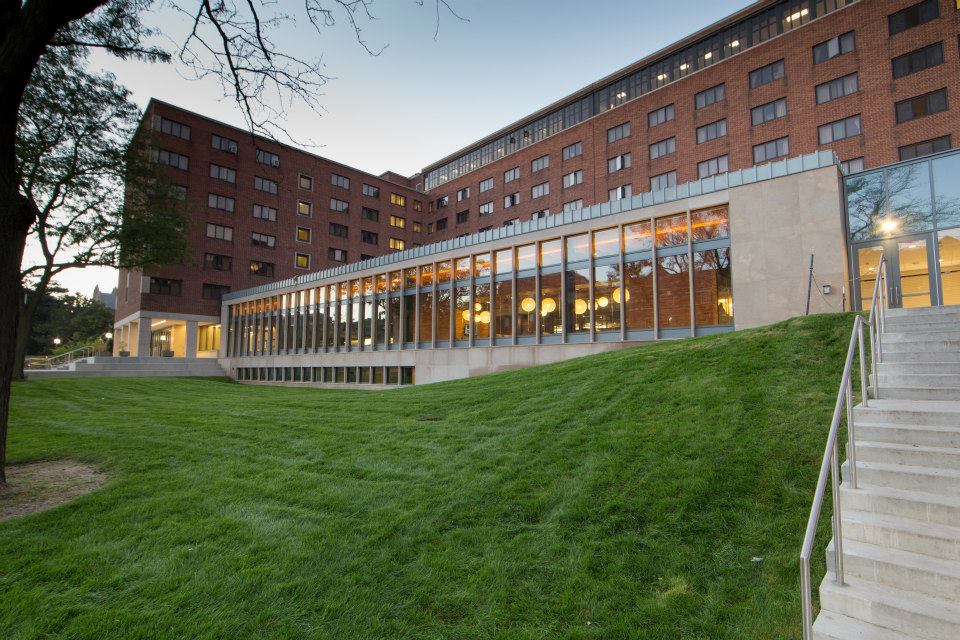 8:00: Wake up in my lofted bed in South Quad, or as we say, "SQuad.".
After scrolling through Instagram and replying to all important Snapchats for 10 minutes, it is time to finally roll out of bed and walk right across the hall.
Here lies the communal bathroom where I get ready for the day ahead of me.
It may be shared by around 20 girls, but I can always easily find a shower, sink, and mirror space for my own use.  
---
8:45: Grab something quick to eat downstairs from the newly renovated dining hall. I can swipe in easily with my MCard, my student ID. Every student who lives in a residence hall has an unlimited meal plan tied to their MCard.  
I already viewed today's breakfast menu with nutrition information via the Michigan App on my phone in between my Instagram and Snapchat visits, so I know exactly what I want: scrambled eggs and waffles.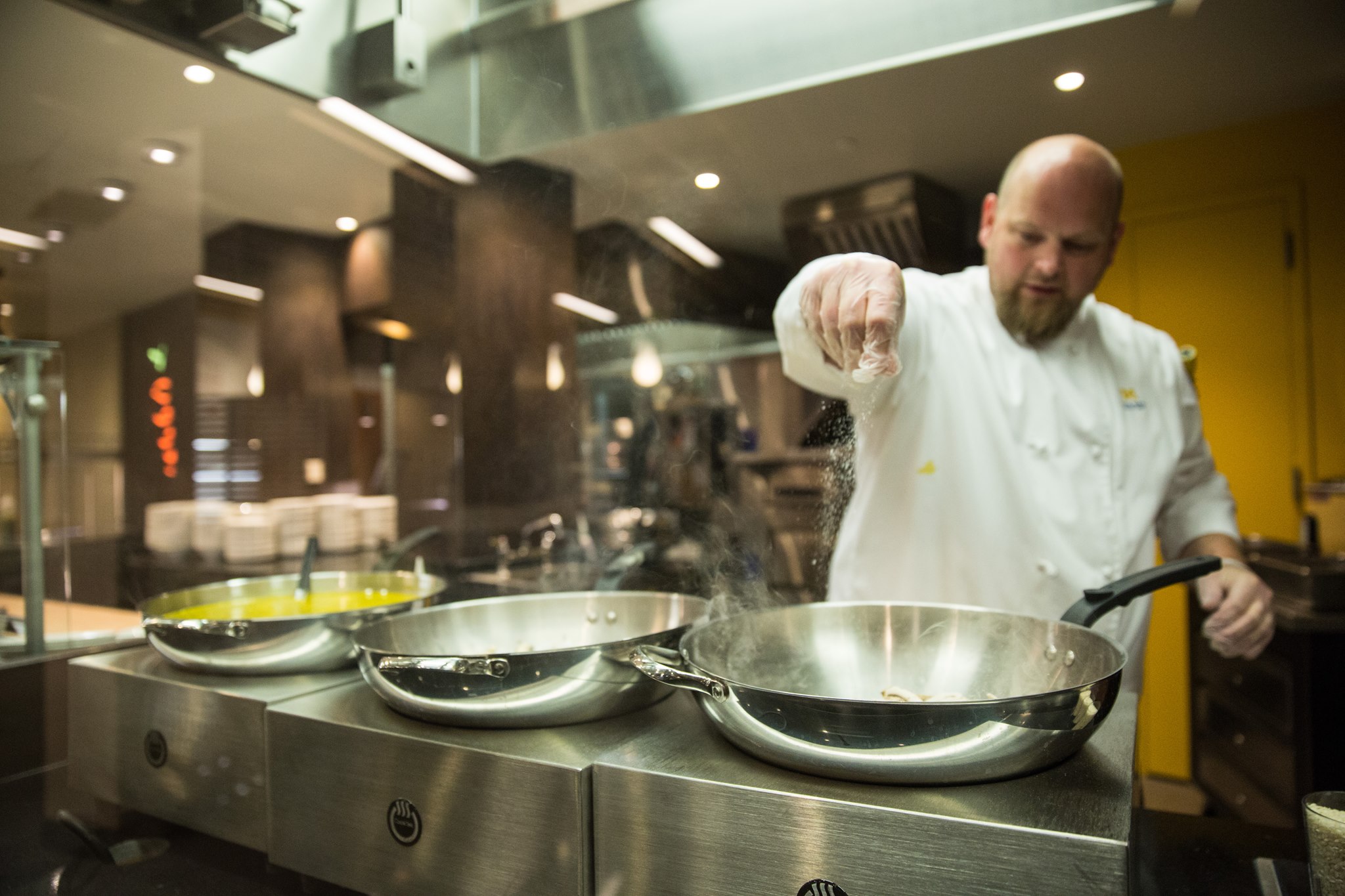 ---
9:05: Walk to my first class, my 9 a.m. PSYCH 250 discussion, or a discussion for my developmental psychology course. Don't worry, I'm not late!
This class is in the Chemistry Building, situated in the middle of campus, an area known as the "Diag", so I only have a five-minute commute.
I know class is really going to start at 9:10 because of what we call "Michigan Time." Classes begin 10 minutes after the scheduled start time. The timing allows students to have a few more minutes to get from one class to another, or, in my case, a little more time for sleeping in!
---
10:00: Before I know it, class is over so I head to the "Ref", which is what we call the Hatcher Graduate Library's reference room.
There I can study in between classes, benefiting from the peaceful silence while taking in all of the beauty the room has to offer.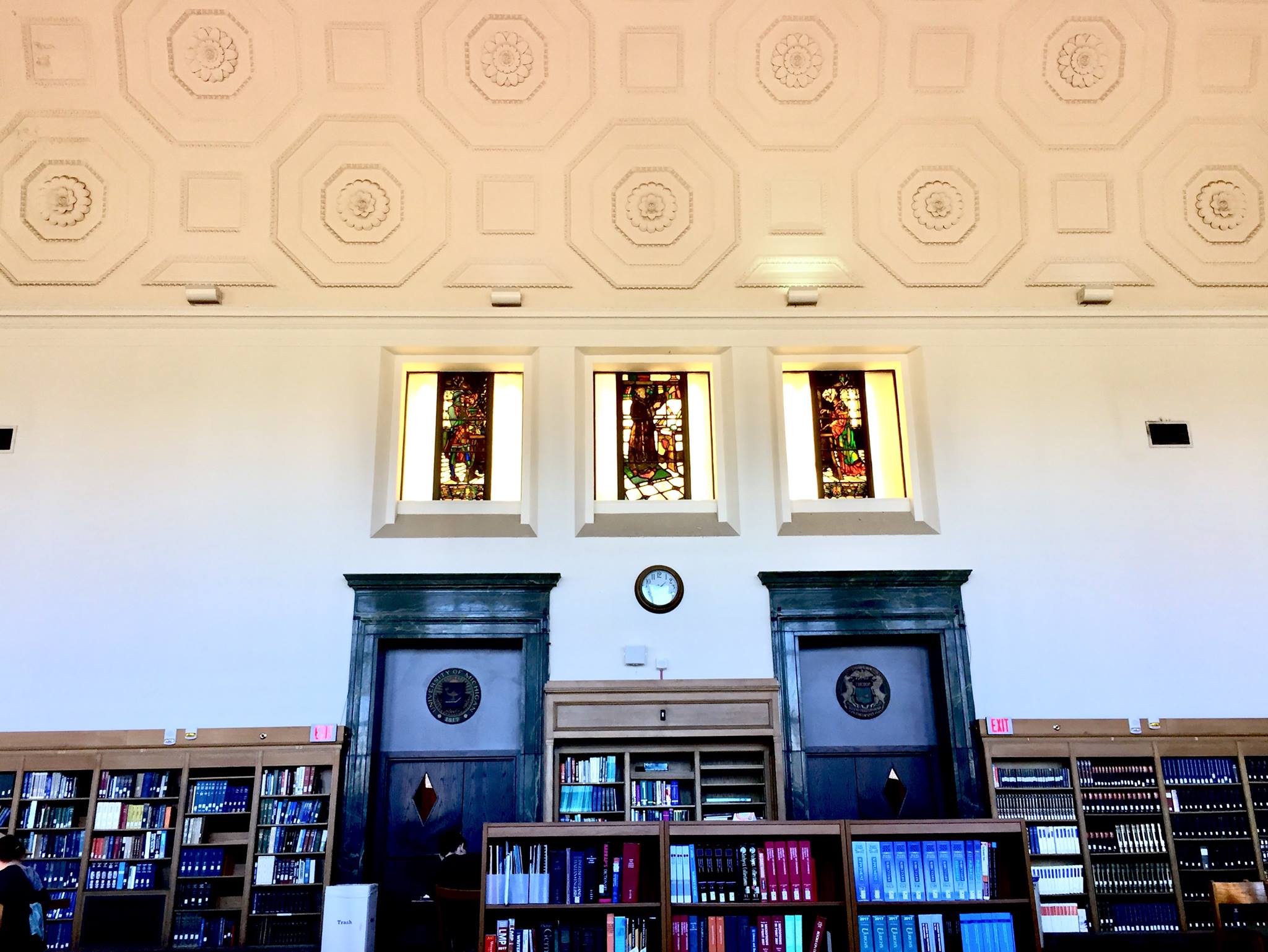 ---
10:45: I get bored of doing homework and cross the enclosed bridge from Hatcher to the "UgLi", or the Shapiro Undergraduate Library. In the UgLi I can meet up with my roommate Abbey to grab a cup of coffee at Bert's along with one of their signature pumpkin chocolate chip muffins.
I can pay for my midday snack with "Dining Dollars" or "Blue Bucks", Michigan's own form of currency. I can easily upload money onto my MCard to use at cafés and eateries around campus. My parents can add cash, too, if they're feeling generous. 
---
11:15: Walk to the nursing building for my next class, NURS 210, Anatomy and Physiology.
The commute to this class is longer, but in one of the benefits of the seamless connection between town and the university, my commute takes me down State Street. There are plenty of shops to look at to pass the time, and I can run into a store if I need something.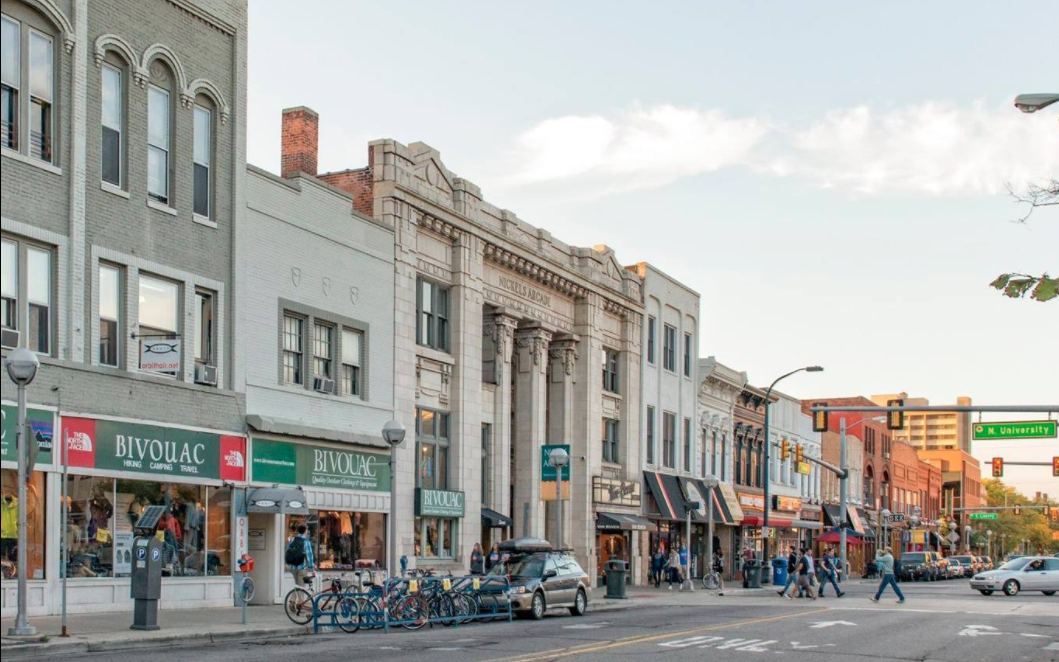 ---
2:00: Class ends, and I am able to walk right back down State Street to have a late lunch with my friend Rachel at one of the many restaurants located just steps from campus.
Sometimes I have time to sit down for lunch, but today we need to get some help with our essays for PSYCH 250, so we take our acai bowls from Amer's to go.
---
My meeting at the Sweetland Center for Writing is at 2:45. Here, I can meet with a peer mentor or, like I am going to do today, with a professor. Yesterday, I easily signed up online for a time slot so there is no wait today.
The professor and I are able to discuss a draft I'm working on. She suggests I alter my thesis a bit to better support each of my arguments. This definitely strengthened my paper.
Once the meeting is over, I can walk back to SQuad to change before going to the CCRB, the central campus recreation building.
---
4:30: I am now ready to get my sweat on at one of the CCRB's super cheap workout classes. This class is a cycling class, but there are a variety of classes I can take. I find class schedules online on recsports.umich.edu/groupx.
If I feel like doing some solo activities, I can always use the free facilities any of Michigan's three gyms have to offer.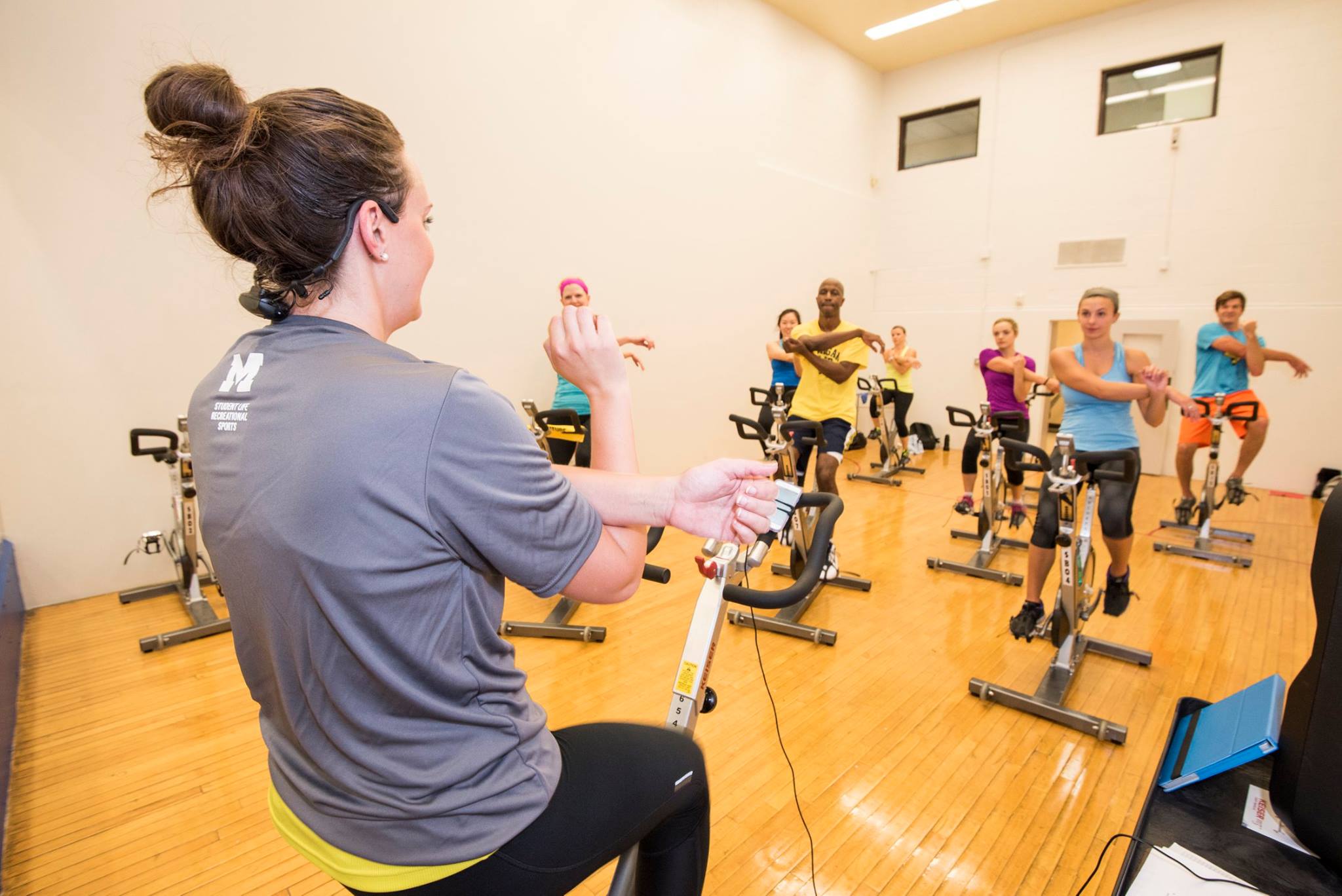 ---
6:00: As I am already on "the Hill", a neighborhood of dorms, I choose to eat dinner with my friend Hillary in her residence hall, Mosher Jordan, or "MoJo" for short. Students in any dorm with a meal plan can swipe into the dining hall at any other dorm.
Just like with breakfast, we could view the menu online prior to eating, and I know exactly what I'm getting: grilled chicken with mashed potatoes and, of course, a famous MoJo chocolate chip cookie for dessert.
---
7:30: I hang out with Hillary for a little in her dorm before I have to walk back over to the Chemistry building for office hours with my PSYCH 250 GSI, or my graduate student instructor.
At office hours, my GSI is happy to meet with me to go over my paper. My meeting at Sweetland combined with office hours makes me feel completely prepared to polish my essay tonight before turning it in tomorrow.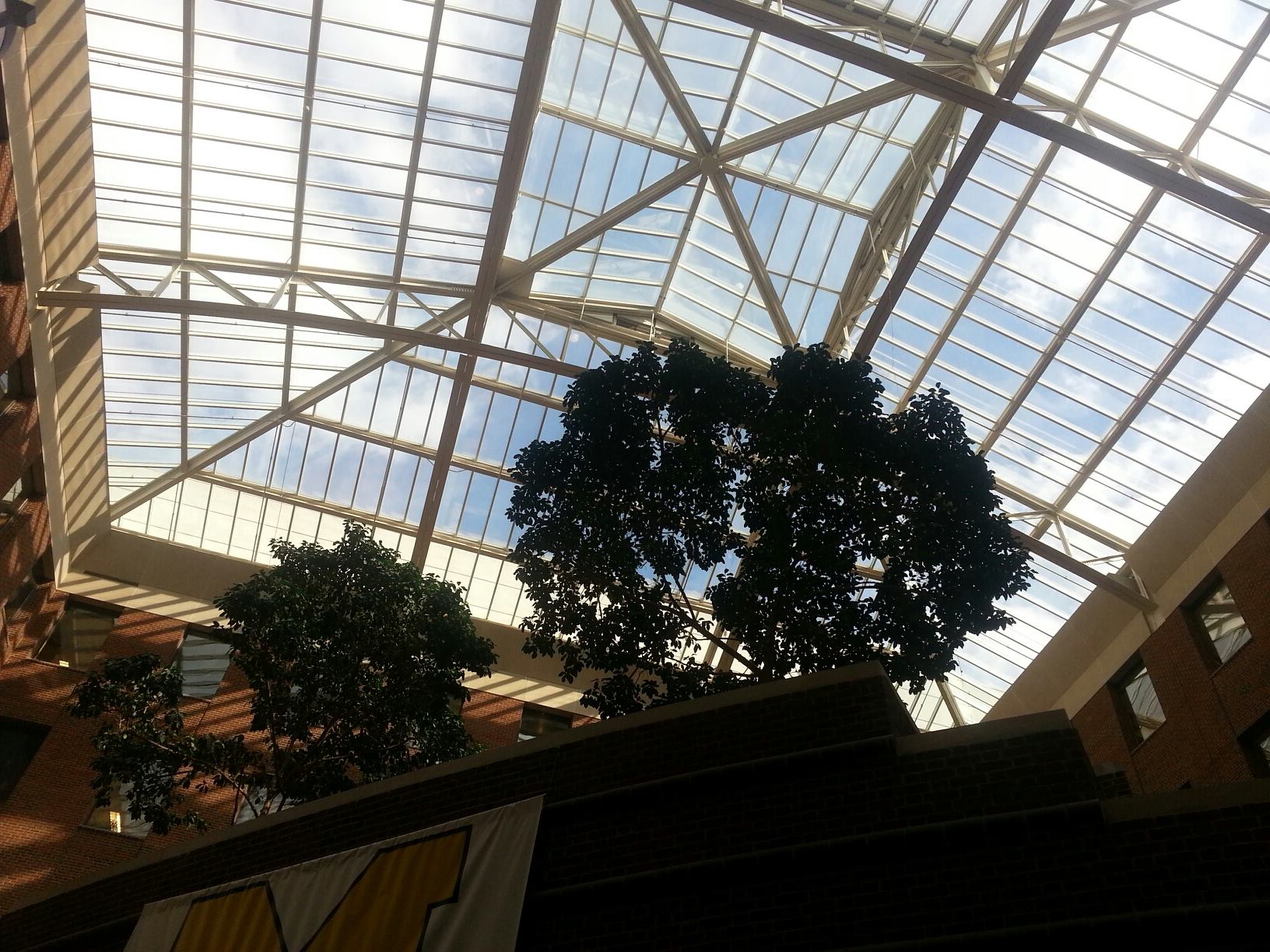 ---
9:00: There is a mass club meeting for United 2 Heal, the club I joined that gives me the opportunity to help sort medical supplies on the weekend and attend medical-focused workshops during the year.
Many clubs have mass meetings at the beginning of each semester to let students try out the organization before making a commitment to formally join.
---
10:00: The meeting that just ended was in the Michigan Union, which is a common hang out spot for students. I walk to the Starbucks located on the first floor, which will take my Dining Dollars, and sit down to do some homework.
---
11:00: The essay is completed! I do not have a printer nearby but am able to print out my essay on https://mprint.umich.edu. I send it directly to my classroom for me to pick up from the printer tomorrow.
I now head back, get all ready for bed, and stay up talking to Abbey for a little while. But, with my long day behind me and another long day ahead, I go to sleep on the early side.
Soon, I'll be up ready to do it all over again tomorrow.