With 30 hours of scheduled programming and events spread over just two-and-a-half days, freshman orientation is a busy blend of information, socializing, and figuring out what it means to be a Wolverine.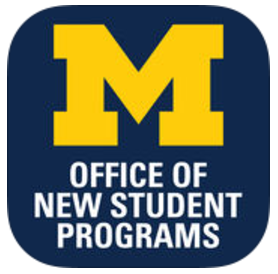 And transfer student orientation, while shorter in length, has a similarly full itinerary.
Luckily, the best tool to help you make the most of your orientation experience is already in your pocket or purse (or maybe your fanny pack).
Thanks to the U-M Orientation mobile app, first introduced to students last summer, everything you need will be right on your smart phone, customized and organized to your exact dates and experience.
And new this summer, the app is integrated with Google Maps to provide you with an interactive campus layout with labels for all key buildings and the upcoming events being held at them.
That will help ease the awkwardness if you happen to make a wrong turn and get lost on campus. Hey, it happens, but at least you can pretend you're just checking your Instagram feed!
Individualized schedules tailored to each student's orientation dates, along with numerous campus resources, will be added in the next few weeks, said Joe Colangelo, assistant director in the Office of New Student Programs.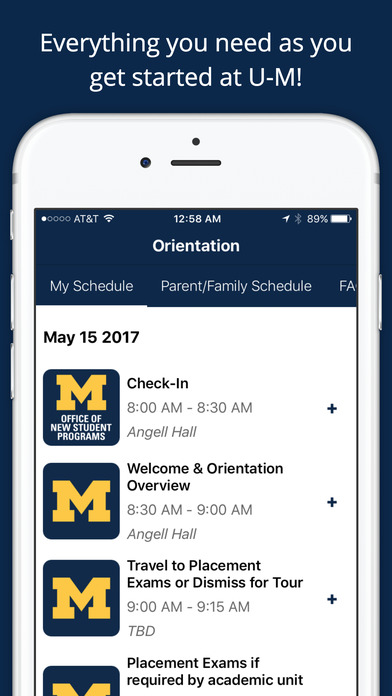 "The app provides everything you need to know," Colangelo said. "We designed it to make the experience more convenient and dynamic for everyone."
And "everyone" means more than just students. Parents can also use the app for their two-day orientation.
The customizable content allows users to filter out the information and events that don't apply to them.
Download it now before you forget, take some time to play around with it in the days leading up to orientation, and be ready to use it once you're here. It's available for Apple and Android devices.
And if you haven't signed up for orientation, what are you waiting for? Make sure to do so as soon as possible.
See you soon, #Victors2021.