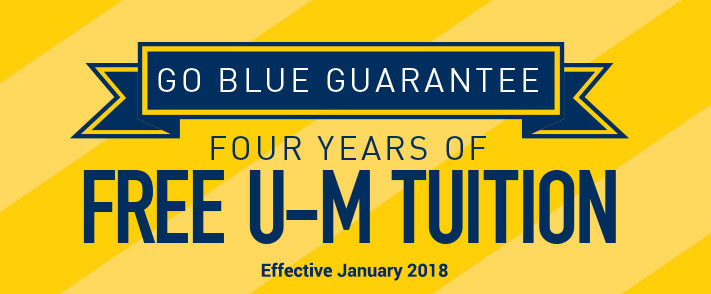 Are you a Michigan resident with a family income less than $65,000?
If you apply to U-M and are admitted, we are prepared to cover the full cost of your in-state tuition for four years of undergraduate study on our Ann Arbor campus. That's our Go Blue Guarantee — a $60,000 value to you and your family!
Furthermore, after a review of your financial aid applications, you will most likely be eligible for additional aid to cover the costs of housing, meals, textbooks and other expenses.
We encourage you to explore our admissions site and discuss this great opportunity with your family. Highlighted below are some key areas of interest to get you started. We look forward to receiving your application by our Early Action deadline of November 1 or Regular Decision deadline of February 1.
Go Blue!