Let's address the elephant in the room: many University of Michigan students, myself included, lost their summer internships due to the economic strain COVID-19 has put on our economy. And while some of us are using that time to take spring and summer courses, or studying for graduate school entry exams such as the GRE and LSAT, I know a few students who have absolutely nothing to do other than play video games, walk outside, and sleep every single day until fall arrives.
If you're looking for something stimulating to do this summer, and binging Netflix doesn't quite scratch that itch, I have some good news. Here are three remote learning resources that all University of Michigan students can access for free.
LinkedIn Learning
You might not have known that students have access to LinkedIn Learning, but to be fair, students only received access one week ago.
This past semester, I served as an audio intern at the Shapiro Design Lab, a "maker space" within our Undergraduate Library where all students can use 3D printers, a laser cutter, audio equipment, and media production equipment for free. (When the library is opened back up, I highly recommend you pay a visit!) While serving as an audio intern, I was given access to LinkedIn Learning, which I used to take online courses on audio production and mixing. The classes were phenomenal and you'd be hard-pressed to find a better asynchronous online course resource for audio production (to be fair, YouTube has plenty of great tutorials as well, but they aren't quite as fleshed out as what I found on LinkedIn Learning).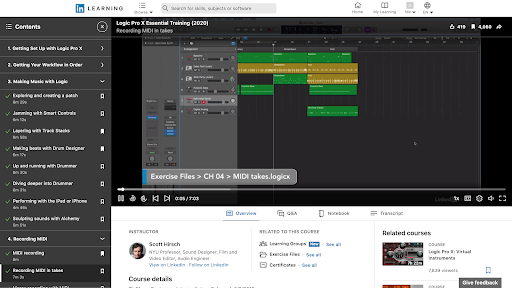 Whether you're trying to learn to code in Python, become a better photographer, record an album at home, or edit videos so you can launch a YouTube career, LinkedIn Learning has a class for you. I highly recommend you check them out.
Coursera
LinkedIn Learning is not the only online class resource available to all students. The University of Michigan offers many classes through Coursera, especially in the field of Data Science and Business. If you are interested in these fields, the courses on Coursera may fit your learning goals even better than the LinkedIn Learning courses. If you're interested in another field, I'd still check out Coursera just to see what they have available, but keep in mind that LinkedIn Learning will likely have a larger library of courses within your interests.
Adobe Creative Cloud
The final resource is not exactly a learning platform, but an assortment of tools that you can surely learn if paired with LinkedIn Learning. As of March 2020, all University of Michigan students have access to every app in the Adobe Creative Cloud. This includes Photoshop (for photo editing, as you surely know), InDesign (a print/digital publishing editor), Illustrator (for vector graphics and illustrations), Premiere Pro (for video editing), Audition (for audio recording, mixing, and restoration), Lightroom (for photo editing), and more. If you have an interest in video making, photography, digital art, or podcasting, I highly recommend you become familiar with one of these tools this summer with the help of a LinkedIn Learning course.
And before I go, one last note. These resources are not the only places you can learn on the internet. As previously mentioned, YouTube can be great for online learning, and you should consider utilizing digital resources through your local public library (if eligible) such as Kanopy (movies) or OverDrive (e-books and audiobooks; their app is called Libby). Whatever you do this summer, stay safe and keep learning, as learning is a great way to make the most of these challenging circumstances. Go Blue!