As a prospective member of the #Victors2024 class, you may already be considering joining the Michigan Marching Band. Because our athletic bands are such a beloved extracurricular on campus, let's take a quick look into my personal experience as a drummer in the Michigan Basketball Band.
Rehearsal
It all starts with rehearsal. While marching band practices more than once per week at Elbel Field, the basketball band only meets once per week at Revelli Hall. The rehearsal is simple: for one hour and fifteen minutes, the entire Michigan Basketball Band works through different songs and prepares to play them at basketball games. If you've ever participated in band or orchestra in high school, you will feel right at home.
This year, rehearsals began just a couple of weeks before the basketball season kicked off. Seeing as the Basketball Band plays at both men's and women's games, there are plenty of games to cover! In fact, the band is split into two bands, which are named after two Michigan basketball legends: the Trey band, named after 2013 national player of the year and Trey Burke, and the Cazzie band, named after 1966 national player of the year Cazzie Russell. The Trey band plays half of the games, and the Cazzie band plays the other half. All in all, it totals around 15 games over the course of the year.
Before the first games tip off, rehearsals are mainly used to play through songs that the band will most commonly play at games. Now that the band has those down, rehearsals are mainly held to add a random song here or there ("Sir Duke" by Stevie Wonder and "Free Bird" by Lynyrd Skynyrd come to mind, as well as "All of the Lights" by Kanye West) that may work well as we get into our rivalry games versus Ohio State and Michigan State.
Next, let's talk about the games.
The Games
Here's where the magic happens. On gameday, the band has to check in approximately an hour before tipoff,set up at Crisler Arena, and be ready to play forty minutes before tipoff. As a three-year veteran of the Michigan basketball student section, better known as the Maize Rage (during my junior year, I ran a part of the student section known as the Jon Teske Fan Club for our beloved center), this is an absolute delight to me. The Maize Rage is so popular that you have to secure a wristband between 7-10 a.m. in the mornings and show up two hours before tipoff to secure a premier seat at the game!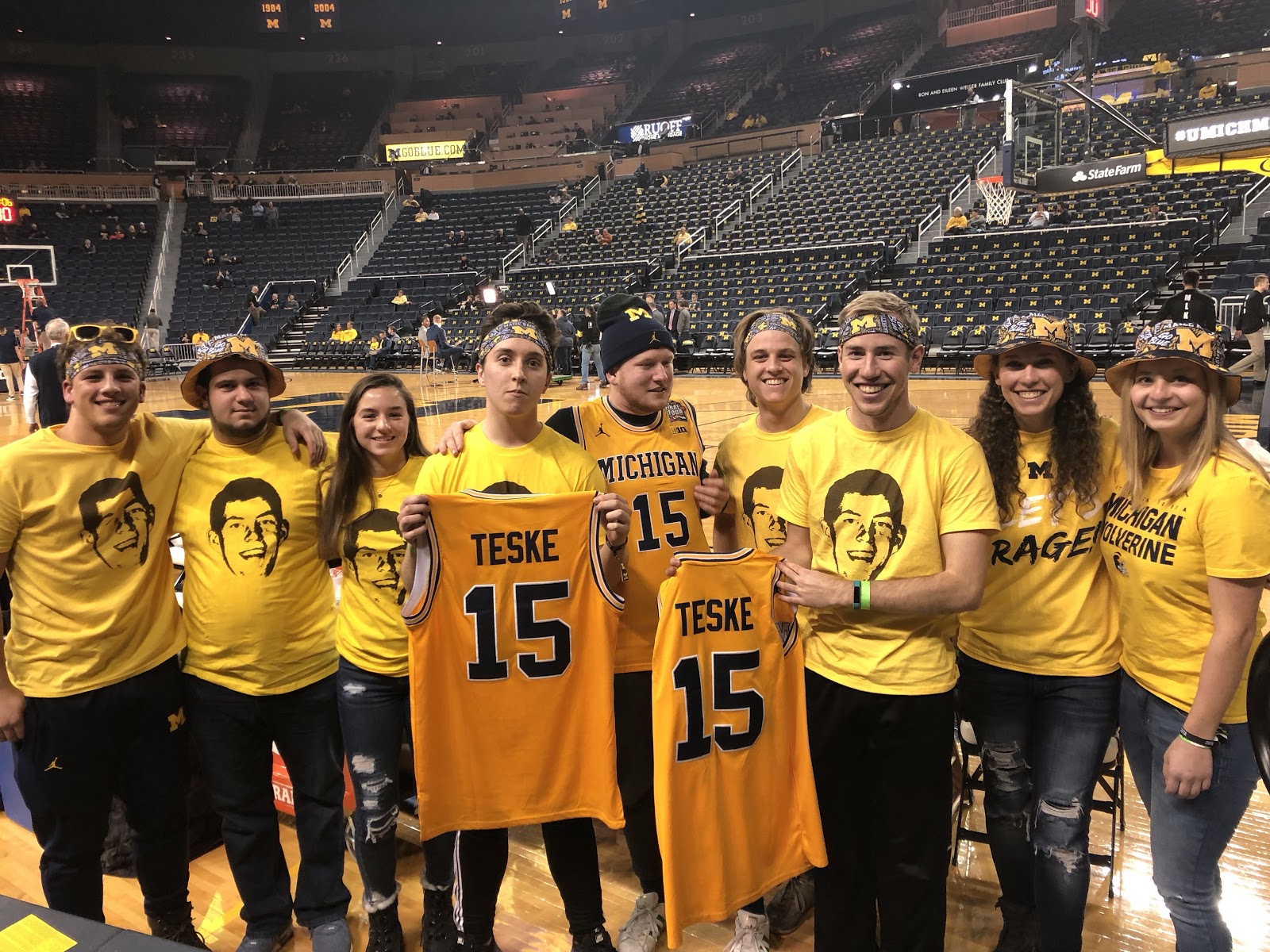 And if you thought your hard work hasn't paid off already, you're wrong. For me, the basketball band is full of other benefits besides showing up an hour before a game starts. For one, getting to drum at Crisler Arena is extremely gratifying. Second, you will befriend the other people in your section of the band, giving you friends to watch the game with. And third, you may be selected for postseason travel during the Big Ten and NCAA tournaments. Picture this: flying on the same planes and staying in the same hotels with the men's and women's teams en route to tournament games (and of course, you aren't paying for any tickets or travel costs along the way; A-Maize-ing)!
In conclusion, drumming in the Michigan basketball band has been an extremely gratifying extracurricular to take on during my senior year. I just wish we could travel for every game!