Right now, it seems that every news source, television channel, and social media outlet comes out with more bad updates. With this constant influx of negativity, it can be quite difficult to stay afloat. To combat this, I recommend checking out U-M's digital library, and taking some time to give your mind a break. It might be just what you need to relax. So here is a list of some lighthearted reads that will hopefully get your mind off things. 
Realistic Fiction:
Red, White & Royal Blue by Casey McQuiston. 4.30 stars on GoodReads, 5 stars by me
This heartwarming and often comedic novel follows Alex Claremont-Diaz, the first son of the United States, as he falls for the Prince of Wales, who he had previously considered a rival. 
Small Admissions by Amy Poeppel. 3.67 stars on GoodReads, 4.4 stars by me
After a difficult breakup, Kate Pearson pulls herself together enough to apply for a job at an admissions department of a highly competitive school. This hilarious yet insightful book will keep you laughing as Kate begins to work with the city's snottiest parents and kids. 
Essays:
Me Talk Pretty One Day by David Sedaris. 3.99 stars on GoodReads, 4.4 stars by me
Honest, vulnerable, gut-wrenchingly funny essays span across Sedaris' childhood and adult life without leaving out the embarrassing bits. 
We Are Never Meeting in Real Life by Samantha Irby. 3.92 stars on GoodReads, 4.3 stars by me
These essays cross different forms as Irby shares raunchy and awkward encounters, gives satirical advice, and discusses her hardships with a witty, self deprecating, and always comedic voice. 
Science Fiction:
Hitchhiker's Guide to the Galaxy by Douglas Adams. 4.22 stars on GoodReads, 4.1 stars by me 
Over a round of drinks, a friend confesses to Arthur Dent that the world is about to end, and he is an alien from the planet Betelgeuse. The two then begin to see the universe by hitchhiking a ride on a spaceship. 
Red Queen by Victoria Aveyard. 4.06 stars on GoodReads, 3.9 stars by me 
Set in a world divided by red and silver blood, Mare Barrow, a Stilt from a poor area, discovers that she has an impactful power of her own, despite having red blood. Possessing this while working in the Silver Palace could potentially destroy the power balance.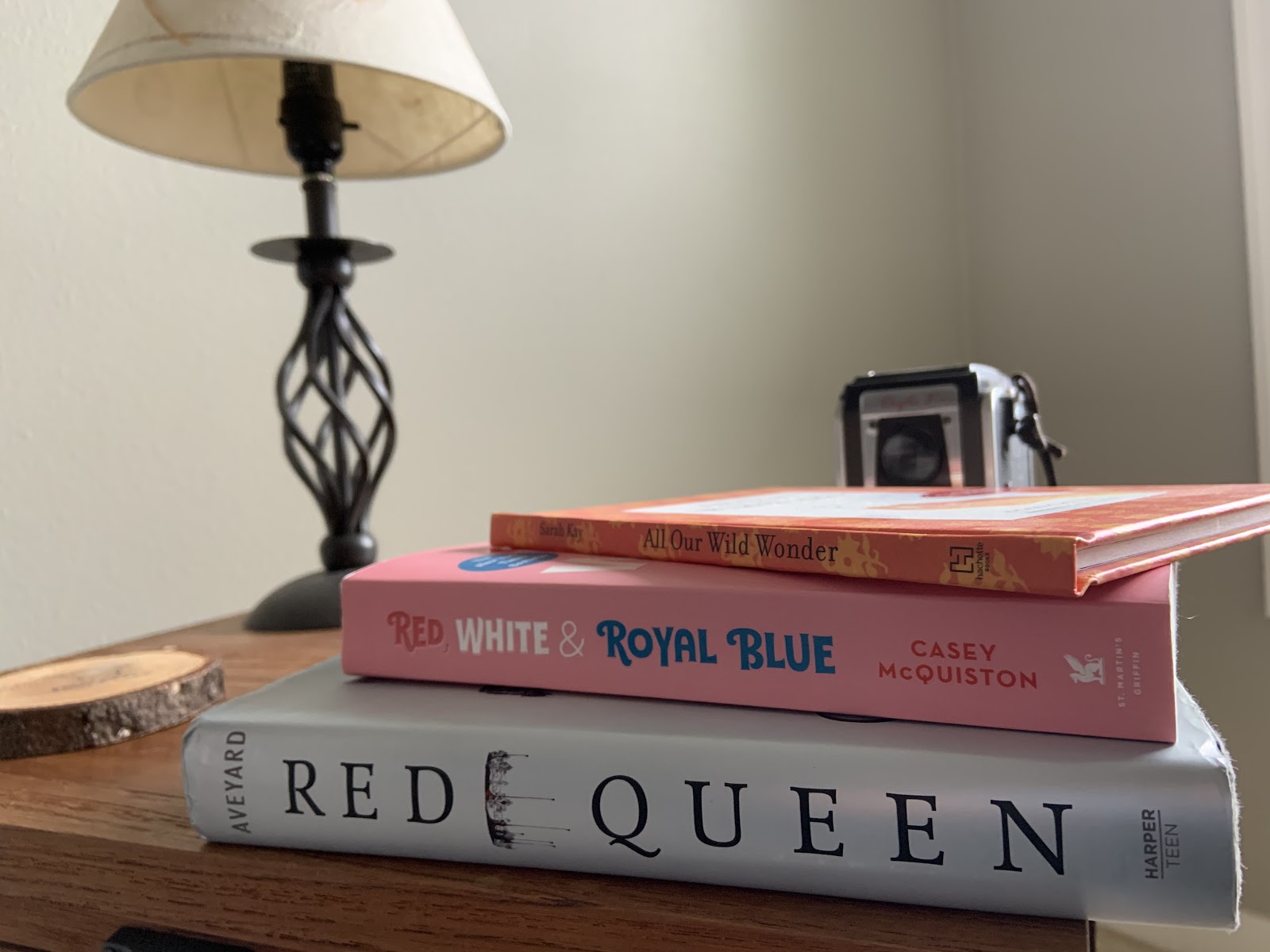 Graphic Novel:
Be Prepared by Vera Brosgol. 4.02 stars on GoodReads, 4 stars by me 
Funny, and artistic, this graphic novel follows a middle schooler doing her best to fit in at an intense Russian summer camp.
And the Pursuit of Happiness by Maria Kalman. 4.29 on GoodReads, 4.3 by me 
Inspired by the 2008 election, Kalman explores the beautiful workings of democracy and where it can be found around her. Historic figures appear throughout, reminding the reader of successful moments in history.
Poetry:
All Our Wild Wonder by Sarah Kay. 4.47 stars on GoodReads, 4.6 stars by me
Single volume illustrated poem that highlights the beauty and importance of learning, building curiosity, and constantly growing. 
And Still I Rise by Maya Angelou. 4.42 stars on GoodReads, 5 stars by me
While many of her other poems touch on difficult topics, this beautiful verse inspires courage in humanity and our ability to overcome various struggles. 
Need to be transported back to a better time? Revisit your childhood favorites:
Harry Potter and the Sorcerer's Stone by J.K. Rowling
The Chronicles of Narnia by C.S. Lewis
Percy and the Lightning Thief by Rick Riordan
The Hunger Games by Suzanne Collins
The Truth About Forever by Sarah Dessen
The Penderwicks Series by Jeanne Birdsall
An Abundance of Katherines by John Green
Read these to your younger sibling or cousin:
Diary of A Wimpy Kid by Jeff Kinney
Ivy and Bean by Annie Barrows
Clementine by Sarah Pennypacker
Smile by Raina Telgemeier 
Wonder by R.J. Palacio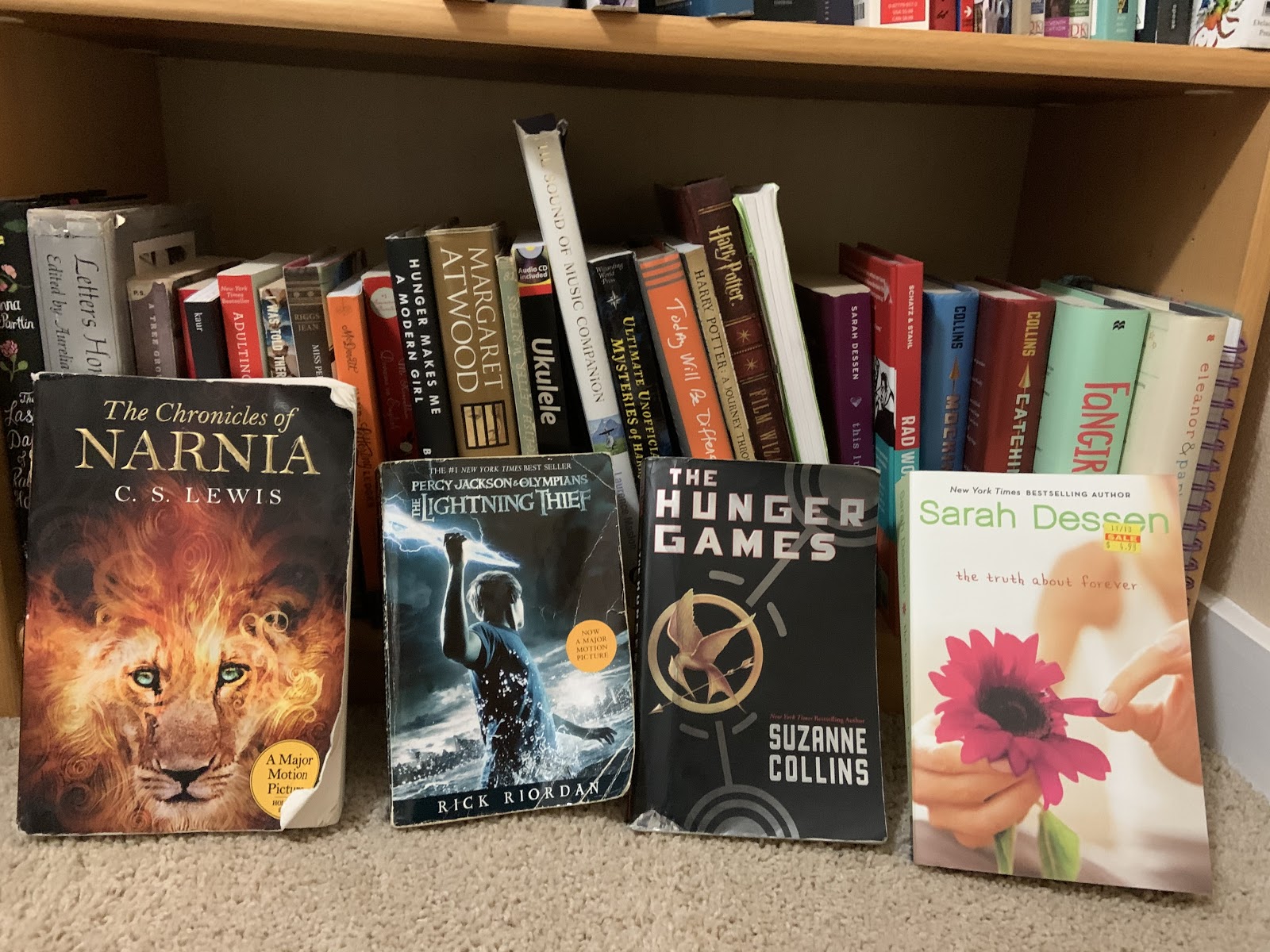 *Header image artwork by Roald Dahl, sourced from the linked site.