Each day at U-M looks different for everyone. Even in my own life, my routine varies based on the week. But to get an idea of what to expect, here's a snapshot of my typical Monday as a first-year student in Ann Arbor.
7 a.m. – Wake up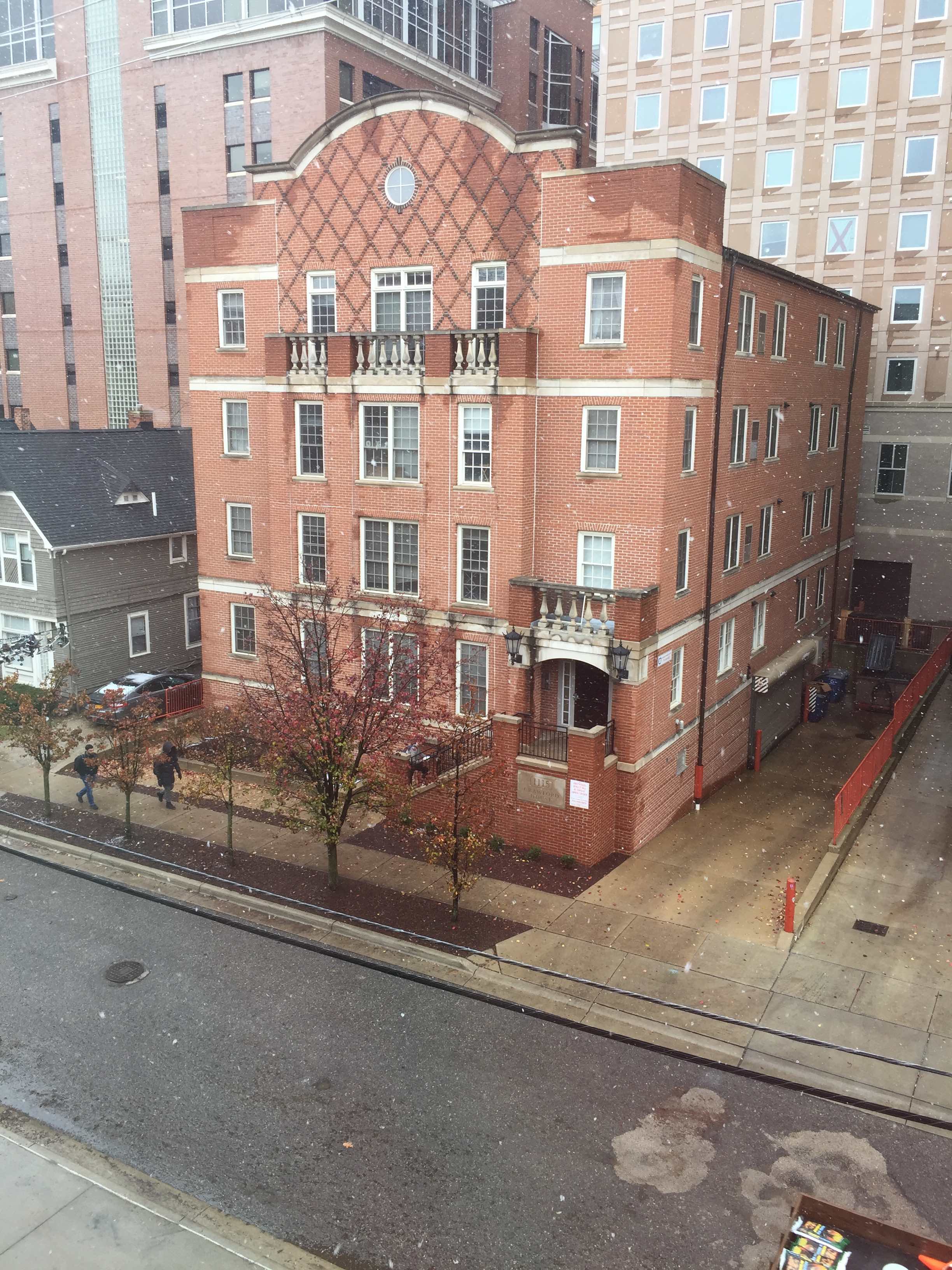 Don't worry if this time horrifies you—if you are not a morning person, you can register for later classes and sleep in. In fact, most college students sleep in until an hour before their first class. Unfortunately, my body usually wakes me up around 7 a.m. even if I don't set an alarm. (pictured above: view from East Quad)
I get dressed, grab my backpack that I packed the night before, and head downstairs to the East Quad dining hall for breakfast around 7:30 a.m. For those who prefer to sleep in, all seven dining halls on campus remain open from 7 a.m. to at least 8 p.m.—most even have "Late Night" meals past eight.
Every morning there are an assortment of breakfast options to choose from: hot food like scrambled eggs and potatoes, and cold foods like cereal and yogurt. The dining hall is nearly empty until people start piling in around 8:30 a.m., so it's the perfect time to catch up on emails, get ahead on homework, or relax.
9 a.m. - 1 p.m. – Class
Because I am part of the Residential College (RC), one of the many Michigan Learning Communities (MLC) offered for freshmen, I live in East Quad and all my RC courses have no more than twenty students. Moreover, I do not have to worry about trekking across campus or taking the bus since most of my classes are in East Quad.
I start the day with my RC Spanish class, rightfully named "Intensive Spanish II" in East Quad, followed by an introductory political science class in Mason Hall, which usually means I am speeding through the Diag at 9:55 a.m. to make my 10:00 a.m. class.
Afterwards, I head back to East Quad to attend a Spanish lunch table, which is part of the Intensive Spanish program through the RC. Then, I head to my Spanish discussion class.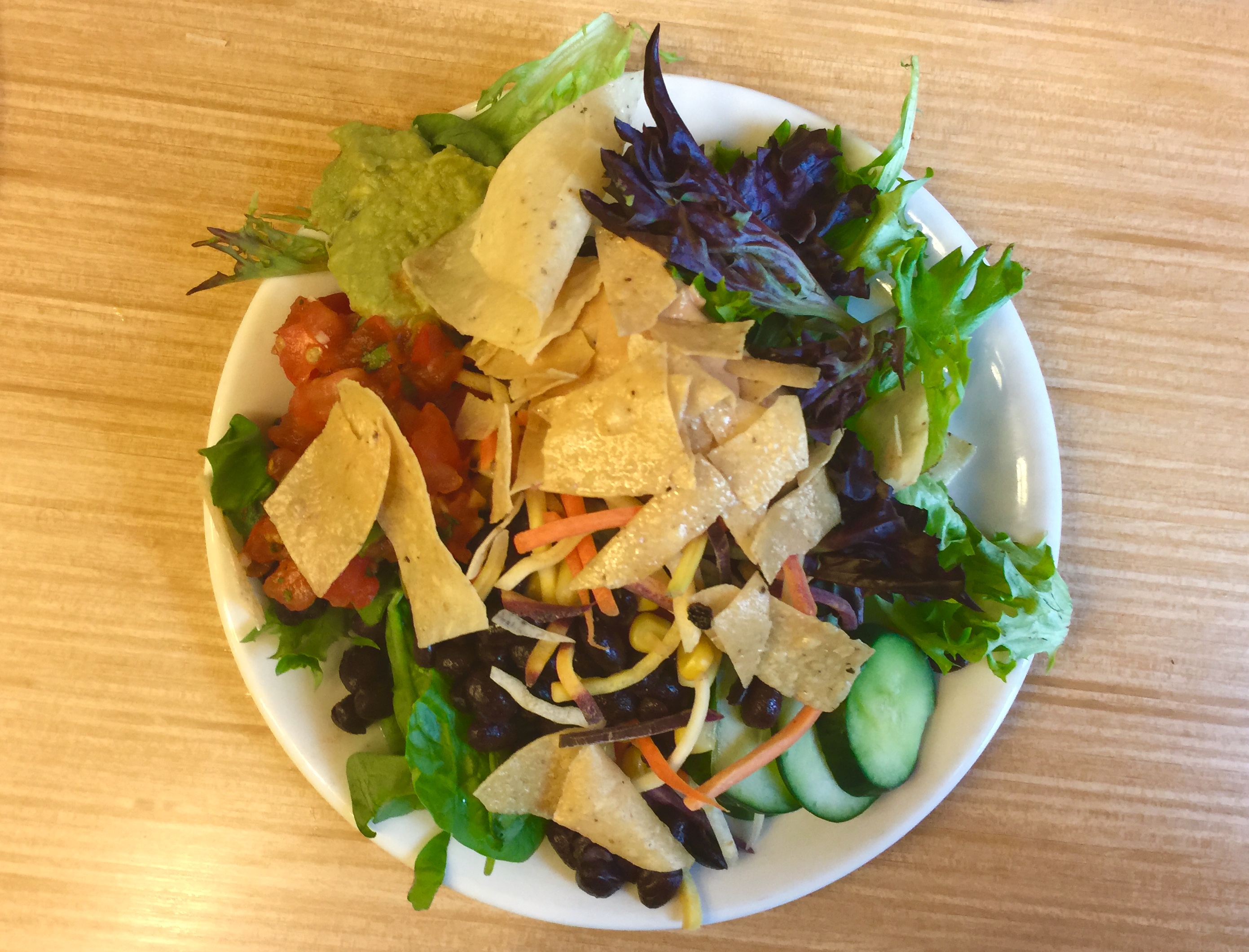 I've now made it through three out of four classes!
1 p.m. - 4 p.m. – Free time
Next, I have a much-needed cool-off period during which I always find myself doing different tasks. If I'm feeling productive, I work on homework or (occasionally) make it to the gym.  
Sometimes I head into the Program of Intergroup Relations Office, where I work as a workshop facilitator, and plan or debrief a workshop centered on a social justice topic.
However, most days, I'm pretty burnt out from back-to-back classes in the morning and spend this time making some coffee and vegetating in my dorm room or catching up with friends.
4 p.m. – Last class!
I head to my fourth and final class of the day—my first-year writing seminar. Luckily, since it's an RC class, it's also in East Quad, so I don't need to leave the building and face the cold.
I have no idea why, when registering for classes in July, I decided that I would make Monday my busiest day. But at least it makes the rest of the week feel like a breeze!
5:30 p.m.- 11:00 p.m. – "After school" time
After completing my last class at 5:20 p.m., I'm finally free for the day! I usually head to dinner in the East Quad dining hall, or, if I'm feeling adventurous, make the 10 minute walk to the South Quad dining hall. As the newest and one of the larger dining halls, I know I'll find something I like in one of their ten different mini-restaurant stations.
Next, I typically work on homework. If I really need to focus, I'm most likely on the 3rd floor of the UGLI or at one of the study tables in the School of Social Work. Otherwise, I'll head to Espresso Royale with friends and convince myself I am being productive (but I probably spend a solid hour chatting).
11 p.m. - 12 a.m. - Winding down
Usually, around this time, I head back to my dorm room and get ready for bed. Sometimes, if my roommate has returned, we'll talk (or complain) about our day.  
Again, every evening looks different depending on the week, but usually by 12, I'm asleep so that I can rest up for the next day!
---
This is what my Monday looks like, but in Ann Arbor you can truly shape your own unique experience. There are a variety of different jobs, clubs, and organizations on campus to get involved in. Many students attend club meetings in the afternoons and evenings, while others find other parts of campus life that interest them.
No matter what you may pursue, I can guarantee that you will never have a boring day in Ann Arbor.