Networking has become a buzzword among young and aspiring professionals. But what is it, really? An essential component of hustle culture, networking is often reduced to shallow conversation with "real" adult professionals or a means to an end, but it's really much more. Networking is both a tool and a skill; it is an opportunity to build valuable (although yes, sometimes surface-level) connections and also develop your sociability. 
If you're a first-year student, you might already feel the pressure to "network" – that is, make a LinkedIn profile, suit up, and attend every possible networking event available to you. You should seize those opportunities, but also recognize that just being a college student is a tremendous privilege that connects you to people without you even realizing it. Still, if you're seeking insight on the specific examples of networking, look no further!
The first (and most generic) tip is to actually put yourself out there and attend social and professional events. U-M hosts a ton of various career fairs throughout the year, such as the Social Impact Fair on Wednesday, January 29 hosted by the LSA Opportunity Hub, or the Winter Job & Internship Fair in February hosted by the University Career Center. Student organizations also put on mixers and social events throughout the year. Even if you don't want to fully commit to joining an organization, adding yourself to email lists can keep you aware of networking opportunities on campus.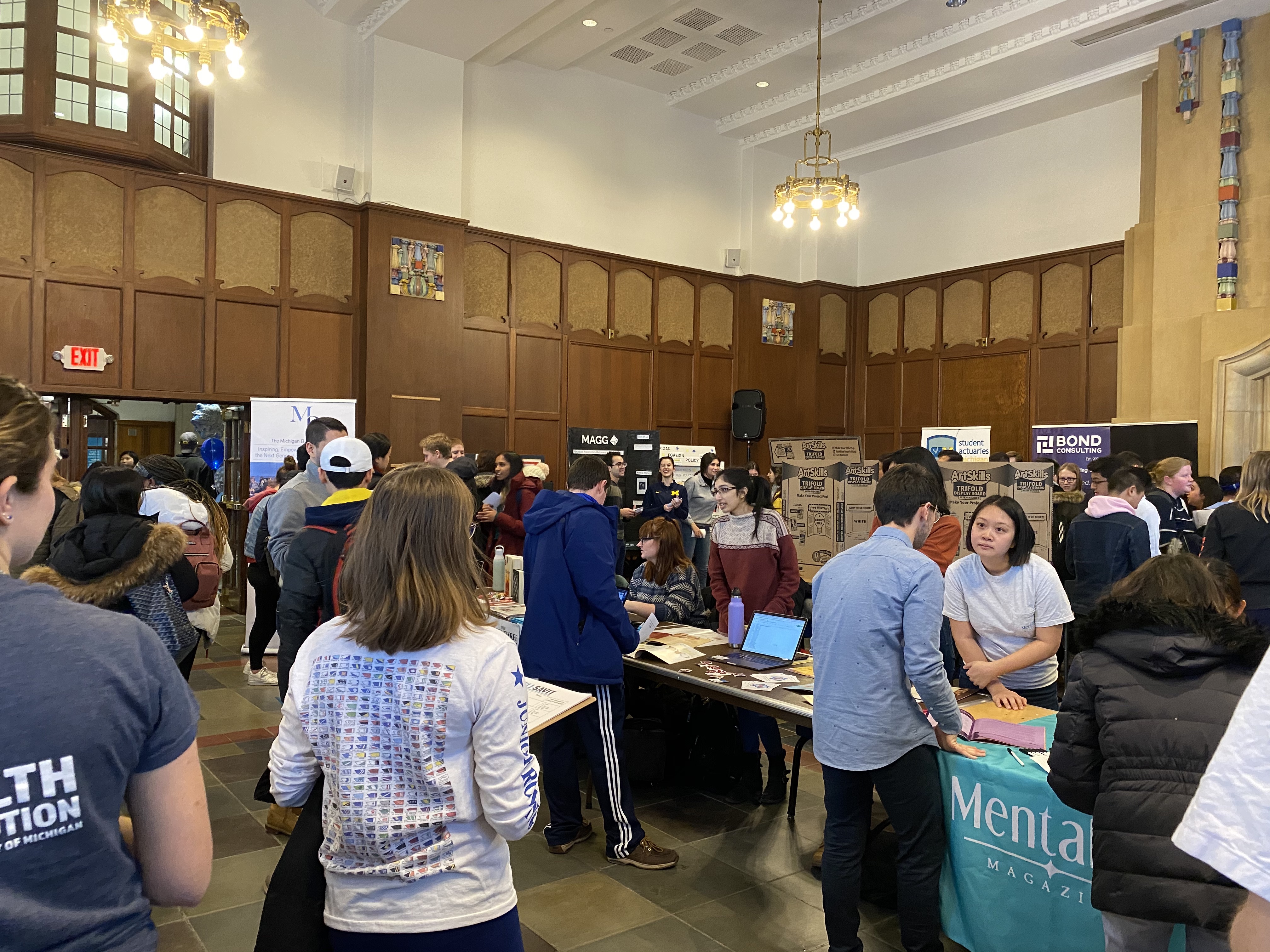 That being said, joining a student organization that surrounds you with people who share your interests is a crucial step in building your network. This can be a professional fraternity, but also an intramural sports team or volunteer organization – anything that interests you enough where you're willing to invest serious time. 
Take a class designed to connect students with opportunities. Classes like ALA 171: Making the Most of Michigan; ECON 208: Economics at Work; and many others offer just that. 
Join a Michigan Learning Community. If you're a first-year student, learning communities can help you navigate the so-called "first-year experience" and save you the labor of having to find your network through a student organization (although you should do that too). Along the same lines, U-M also offers Living-Learning Programs that are available to students in their second year and transfer students. 
Go to your professors' (and GSIs') office hours! I'm sure you've heard this piece of advice applied in many different scenarios. The bottom line: it's best not to overthink it and just go to office hours – you'll be a better networker for it! 
Join some type of mentorship program. Another helpful way of becoming better acquainted with the process of networking is learning from people who have already been in your position. U-M offers mentorship programs like Michigan Mentorship Matters, which falls under the Comprehensive Studies Program, as well as other low-commitment mentor/mentee opportunities under most student organizations. Just last semester, I filled out a mentee form for SWIE (Society of Women in Economics) and within a week or so I met up with my mentor who had a lot of practical advice on navigating internships and deciding on a major. 
Make a LinkedIn profile and actually use it. I'm guilty of not doing this myself. I set up my LinkedIn profile sometime around my freshman year of college, had my sister take my picture, and then added people until I hit a measly 30-or-so connections. LinkedIn can keep you connected to people with whom you otherwise wouldn't stay in contact. But equally as important, social media platforms help you maintain and strengthen the links that you already have; make sure to maintain your connections on them!
Lastly, don't underestimate the value of just organically meeting people. If you've ever made conversation during the ten-minute passing period in between classes, or traded Snapchats with someone, congratulations – you've networked.