Do you consider yourself highly motivated? Eager to find out what college is like before you get there? Dual enrollment is a program through which high school students may enroll in college classes at the University of Michigan — and experience directly what an education at one of the best universities in the country is like. The purpose of the program is to supplement and enrich the academic programs of ambitious high school students by widening their options and offering them the challenge of taking courses that are unavailable at their high schools.
Can I earn college credit?
High school students who dually enroll for courses at U-M, and other accredited institutions of higher education, may receive credit for work based on a determination by faculty in the department, school, or college responsible for instruction in the subject area. Among factors influencing the determination of acceptability for other accredited institutions are accreditation status, comparable academic quality, and the relationship of the course to other course offerings in the primary administrative unit and other academic units at the university, and the basis for student performance evaluation in the course.
What courses can I take?
Dual enrollment is intended for students who have exhausted the academic opportunities available at the home high school. Additionally, students must demonstrate, through AP test results, their mastery of introductory level concepts that allow for placement into advanced (200 level or above) coursework at U-M where space is available. Typical courses are intermediate language or math courses. Space availability is limited and will also be used to determine admission.
What does it cost?
If you are enrolling via the Community Resource Program, there is no cost. Otherwise, dual enrollment students pay non-degree student tuition rates. Non-degree seeking students will be assessed tuition based on their school or college of enrollment and residency status. Undergraduate non-degree seeking students are assessed Lower Division tuition rates. Although school district policies may differ, many pay part of this cost, with the student's family paying the remainder. Books and parking are generally not covered, so be sure that you understand what the final costs are.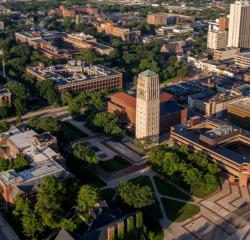 Learn about the materials that need to be submitted to become a dual enrollment student at U-M.